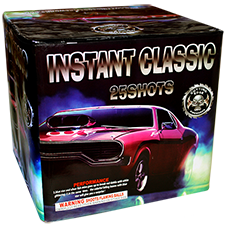 Shots: 25
Colors: Blue, Silver, Red, Green, White
Description: Instant Classic is an awesome item with unique effects. Each shot fires up with a blue and silver mine that breaks into red stars with white glitter and a red, green, and blue pistil of falling leaves. It finishes with a rapid-fire 3 shot burst.
Welcome to Superior Fireworks!
SuperiorFireworks.com is the premier online fireworks company, supplying you with the very best in consumer fireworks throughout the year. We are open year-around and carry only the best brands in fireworks, such as Brothers, Black Cat, Cutting Edge, and World Class!
New items for 2014 are in stock and ready to ship! Order deadlines for July 4th have been posted, but don't wait until the last day. Some of our popular items have started to sell out; order now for a better selection! Orders generally ship out within 24 hours of placement. We deliver to your door within 2-7 business days from the date of purchase. Shipping Information »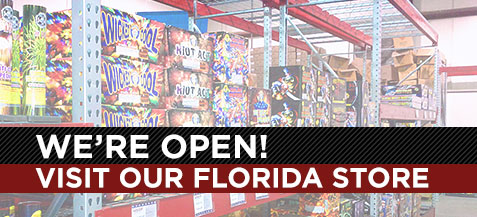 June 24, 2014
Our Florida store is now open for a limited time!
Yes, we're open! Visit us now through July 5th as we open our Orange Park, FL location to the public for a limited time. This is always an exciting time for us to get to meet people in our community, as ... Read More »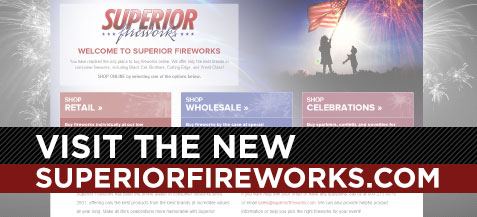 June 16, 2014
Welcome to the All-New SuperiorFireworks.com!
As many of you undoubtedly noticed, we unveiled an all-new website for our retail and wholesale fireworks stores this past weekend. It's been several months in the making, and we're proud to finally share it with you, because it really ... Read More »
August 26, 2013
New Product – Confetti Cannons!
Our new Confetti Cannons are perfect for your next celebration! These extra-large, compressed-air, confetti cannons shoot multi-color, paper and mylar confetti. Measuring 15.5″ long and 2″ in diameter, these cannons can blast confetti 15-20 feet in the air! Being non-pyrotechnic, they ... Read More »